Processing Fresh Data on a Real-Time Basis
How does stream data processing work?
NISHIZAWAThe image of stream data processing is that queries loaded in memory are waiting for data. When a new data item comes in and it is passed through the queries, the necessary part of the data item is processed in memory and unnecessary parts of it are filtered out. This process also has an advantage to keep data freshness.
IMAKITo enable this operation, we narrow the analysis target by segmenting certain parts of the data between "windows," such as the latest 10 minutes or latest 10 cases, so that the target is as close as possible to the present point in time. This method is called a "windowing operation."
Figure 2: How the windowing operation is performed


IMAKIMoreover, difference calculation has been incorporated into stream data processing. This reduces processing burdens and increases processing speed. Suppose a window can hold 10,000 pieces of data, for example, and the sum total must be calculated. When data piece 10,001 comes in, the oldest piece of data goes out. In this case, the sum total is calculated by subtracting the first piece of data, which goes out, and adding piece 10,001, as opposed to calculating from the second piece of data through to piece 10,001. Calculation of the sum total is a fairly simple example, but more complicated calculations, such as join processing, can also be processed in the same manner. That is another characteristic of stream data processing.
What were the particular points focused on in the development?
IMAKIWe endeavored on how we can lower latency. Latency means the time from the data coming in to the results coming out. In fact, we didn't mind latency too much at first. Rather, we had tried to increase the number of data processed per unit of time, or what is called throughput, and worked to create a prototype for commercialization along this line. The research trend in general had also focused on throughput.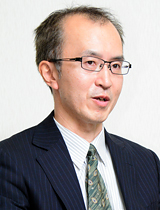 NISHIZAWAStream data processing consists of a number of small processing tasks. The tasks are connected with queues. In our first implementation, if all data items are not finished processing at a certain processing task, the remained data items are temporarily stored in the queue and they wait for the processing. Suppose there are ten data items to process, it is more efficient to process them at once than to process them one by one. However, although it is a very rare case, it could take more than a second before the processing results come out. Our first implementation emphasizing throughput was not accepted by the client in the financial industry. They requested very low latency to place orders when the analysis results indicate that it was time to conduct trades. Of course the requirements vary depending on the customer, in financial transaction scenarios, they wanted latency to be as low as possible rather than have high throughput. This is the reason why we drastically changed our implementation.
IMAKISo we had to manage latency for the client, but it was only about half a month before commercialization of the technology. I remember we worked all night to address the issue. We stuck to a method in which an incoming piece of data is processed from the entry point to the exit point as quickly as possible. The method proved effective, and the data was processed at almost less than a millisecond without varying. As a matter of fact, we were able to obtain a patent for this method, and were honored internally at Hitachi.