Information contained in this news release is current as of the date of the press announcement, but may be subject to change without prior notice.
October 15, 2021
Exhibit of Latest Building Solutions in the "CEATEC 2021 ONLINE"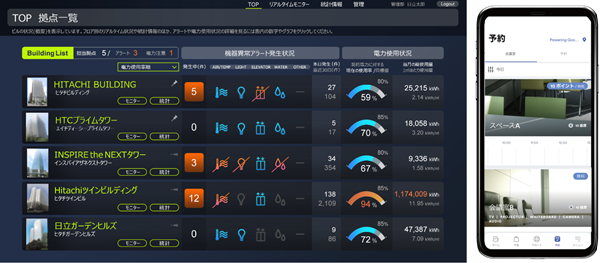 Left: Screen of Building IoT Solution (Image), Right: Screen for Smart Phone App of Office Worker Solution (Image)
Tokyo, October 15, 2021 --- Hitachi Building Systems Co., Ltd. ("Hitachi Building Systems"), a wholly owned subsidiary of Hitachi, Ltd. (TSE: 6501, "Hitachi"), today announced an exhibit of Hitachi's latest building solutions in the "CEATEC 2021 ONLNE" ("CEATEC") to be held online for four days from October 19 to 22.
Due to the spread of COVID-19 infection, society and people's lifestyles have transformed. In August 2021, Hitachi Building Systems renewed its head offices as test sites for the new normal working styles and firstly introduced Hitachi Office Worker Solution(1) and Hitachi Building IoT Solution(2), Lumada(3)'s latest solutions in the building field, to demonstrate internally. Hitachi and Hitachi Building Systems have been developing and enhancing products and services that anticipate the needs for the new normal era(4).
With consideration for prevention of the spread of COVID-19 infection, CEATEC will be held as an online event, following last year. Hitachi will exhibit 5 contents at the General Exhibit Area to introduce its Social Innovation Business. In the building field, Hitachi Building IoT Solution and Hitachi Office Worker Solution will be introduced in the exhibit of "Building Common Platform to Provide New Value for Office Buildings."
(1)

Article on "Hitachi Review 2020 Vol.69 No.6 'Technologies to Achieve Smarter Mobility: Achieving Safe and Comfortable Mobility and Urban Spaces'" titled "Workspace Solutions that Deliver a Better Experience for Office Workers"

(2)

News Release dated November 12, 2020 titled "Hitachi Develops IoT Platform for the High Value-added Buildings Required for the New Normal"

(3)

Lumada is Hitachi's advanced digital solutions, services, and technologies for turning data into insights to drive digital innovation.

(4)

News Release dated July 28, 2021 titled "Hitachi Building Systems Renewed its Head Offices as Test Sites for the New Normal Workstyles" (Japanese)
Hitachi Website about CEATEC 2021 ONLINE
CEATEC 2021 ONLINE Website
Hitachi Elevators and Escalators Website
About Hitachi, Ltd.
Hitachi, Ltd. (TSE: 6501), headquartered in Tokyo, Japan, is contributed to a sustainable society with a higher quality of life by driving innovation through data and technology as the Social Innovation Business. Hitachi is focused on strengthening its contribution to the Environment, the Resilience of business and social infrastructure as well as comprehensive programs to enhance Security & Safety. Hitachi resolves the issues faced by customers and society across six domains: IT, Energy, Mobility, Industry, Smart Life and Automotive Systems through its proprietary Lumada solutions. The company's consolidated revenues for fiscal year 2020 (ended March 31, 2021) totaled 8,729.1 billion yen ($78.6 billion), with 871 consolidated subsidiaries and approximately 350,000 employees worldwide. For more information on Hitachi, please visit the company's website at https://www.hitachi.com