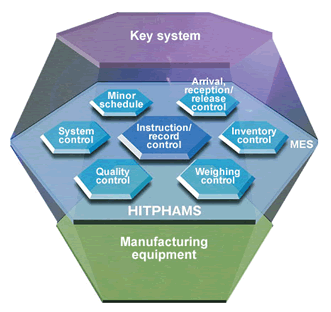 The Hitachi manufacturing execution system for pharmaceutical manufacturing plant is a software package that systematizes all processes ranging from the process for manufacturing stock pharmaceuticals to the pharmaceutical production process.
The system exercises strict control over the production of high-quality, highly reliable pharmaceuticals centering on the control of manufacturing instructions and manufacturing result records as designed for pharmaceuticals.
The system reinforces manufacture control and quality control, such as in controlling the standard operation procedure (SOP), confirming tasks, and executing approval by the control representatives.
Moreover, a manufacturing plan can be linked with the key system to enable the collection of data about manufacturing equipment and the sorting of production plans for the key system among different processes, thereby achieving efficient production operation.
Please use the system for pharmaceutical production today and tomorrow.