We provide SOP control, manufacturing instruction records and result record control as standard functions, thereby offering a user-friendly and accessible operating environment
HITPHAMS operates and controls processes through manufacturing instructions and SOPs displayed on the screen. It enables the real-time monitoring of task progress in each process.
The confirmation, approval and other handling of tasks by control personnel can be interlocked to step up quality control.
Secure operation based on SOP
The record input screen displays manufacturing instructions and SOPs, allowing you to enter manufacturing records while confirming overall instructions and the status of progress.
The system also displays task instructions for each step in windows. If there is any difference from the instruction concerned, the system can display an alarm message window. You can then prevent record omissions and transcription errors, thereby ensuring accurate input.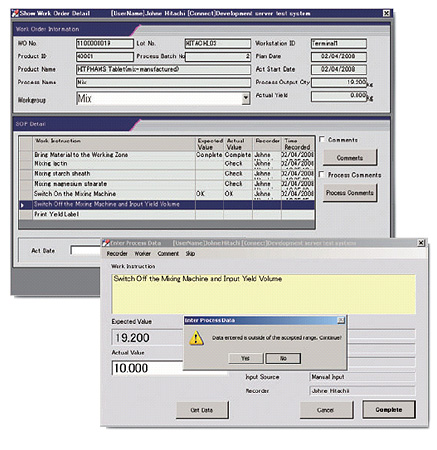 Linking with manufacturing equipment
Data collected on the equipment result collection server can be taken into manufacturing records.
Users can cope flexibly with changes in operation style
End users can easily register SOPs. As a result, end users can easily perform a new task procedure adapted to the production of a new pharmaceutical or change the operation procedure (task procedure) by periodic revalidation or similar action, without needing to modify the program.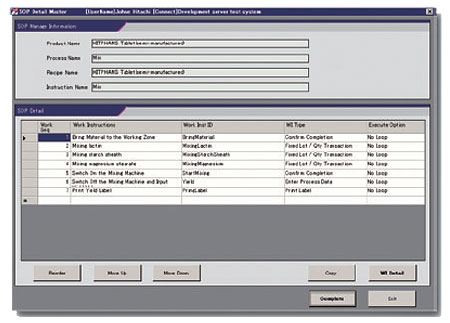 Defining manufacturing record forms with familiar Microsoft ® Excel
The system uses EXCEL functions in defining the format of manufacturing record forms. Even if the format of forms must be changed after activation, end users can easily cope without having to modify the program.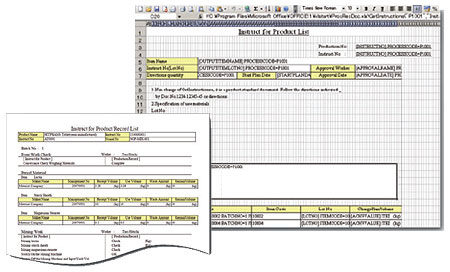 Supporting retrospective validation
The system facilitates a search for detailed record data accumulated in the database of manufacturing instruction records on HITPHAMS and their export to Excel. This increases efficiency in retrospective validation. When combined with Excel, the system lets you perform various analyses and prepare various documents.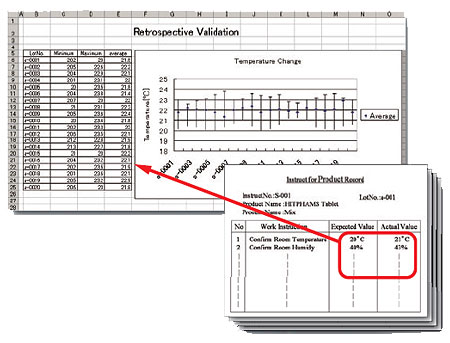 PDA-compatible function Startup support from a Web screen
For manufacturing records and similar documentation, you can use a PDA and enter records via wireless LAN.
You can also start HITPHAMS from the Web screen displayed on Internet Explorer. This provides a system environment compatible with various operating styles.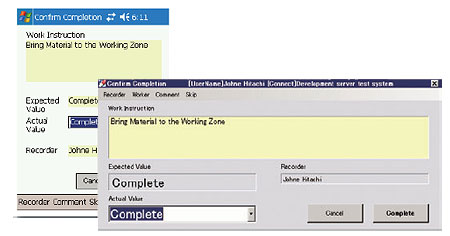 Multi-language support function
By registering language data when building the system, you can enable system use in several language environments. The system comes standard with an English environment.*
* For other languages, consult our sales representative.
Functions compatible with FDA 21 CFR Part 11 (electronic recording and electronic signature)
Based on Audit Trail and other functions and various cases of implementation, we can help you introduce the system.
GQP-compatible function
You can easily and promptly confirm record information about manufacturing. We support decision-making about whether to ship goods as required by the GQP ministerial ordinance.
GQP ministerial ordinance : A ministerial ordinance concerning the standards for quality control of pharmaceuticals, quasi-drugs, cosmetics, and medical equipment.
Information service
Display of competitors' trademarks and similar information
Microsoft is a registered trademark of Microsoft Corporation of the USA in the USA and/or other countries.
Microsoft Excel is a product name of Microsoft Corporation of the USA.
Other company names and product names specified are the trademarks or registered trademarks of the respective companies.