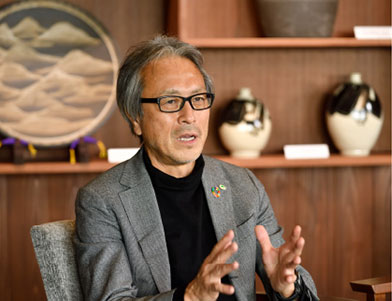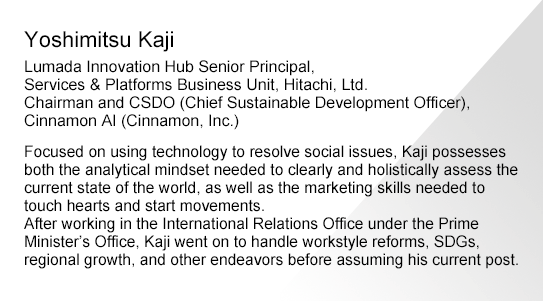 ―In this day and age, environmental problems have become a global issue. Can you talk about some of the challenges related to the use of energy?
Seiji: The 26th UN Climate Change Conference of the Parties (COP26), which was held in November 2021, established the spread of clean energy—particularly, renewable energy—as an urgent task for achieving a decarbonized society. At that conference, Hitachi became the first Japanese company to be named a principal partner. Since then, we have been working to reduce the environmental impact of all Hitachi Group companies, with the goal of achieving carbon-neutral business sites (including both factories and offices) by 2030.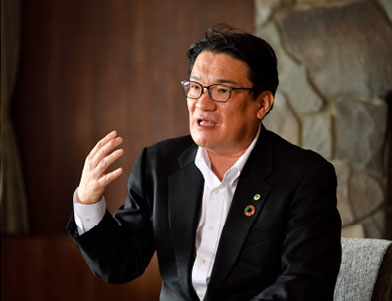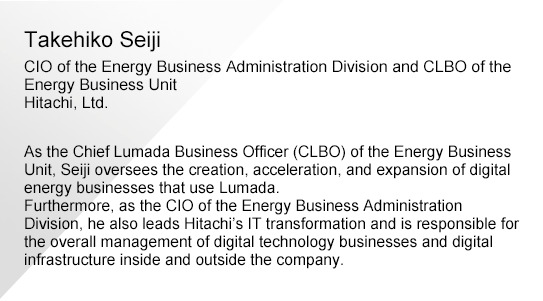 Regarding energy, when we think about the links that make up a value chain—namely, the energy suppliers that generate and transmit power and the energy consumers—there are challenges involved at each step. With respect to supply, there is pressure to increase renewable energy, but the generation of solar and wind power depends on the weather. Thus, the stabilization of power generation is something that must be addressed. There is also a need for stable and efficient power transmission. However, Japan faces an additional challenge, because eastern Japan uses 50-Hz networks while western Japan uses 60-Hz networks. As for the challenges related to demand, energy management can be an effective way to improve efficiency.
In response to each of these challenges, we at Hitachi hope to use Lumada and data to control energy supply, making it more stable and efficient.
Kaji: Hitachi is in a rather unique position, being involved in all steps of the energy value chain from power generation and transmission to consumption. And because of that, Lumada really shines as a common platform. It's a strategy that only Hitachi can implement.
Seiji: Right. Hitachi has both products and IT that we can deftly combine and use. And we have been restructuring our businesses to further increase our value. For example, in the field of energy, Hitachi acquired ABB's power grid business in July 2020. This business then became Hitachi Energy in October 2021. When we combine Lumada with ABB's power distribution technology and the IT that controls it, we can provide services of even greater value. While bringing the expertise of one of the world's leading power grid businesses into Japan, we at the same time hope to share Japan's products and services with the rest of the world. Through this integration, we can change how people think, which is also quite meaningful. Having conducted business on a global scale until now, ABB's businesses have long been standardized and can be deployed efficiently. In contrast, Hitachi's businesses have, for a long time, focused on carrying out each customer's individual requests. As a result, we are not as good at standardizing and there's a lot we can learn.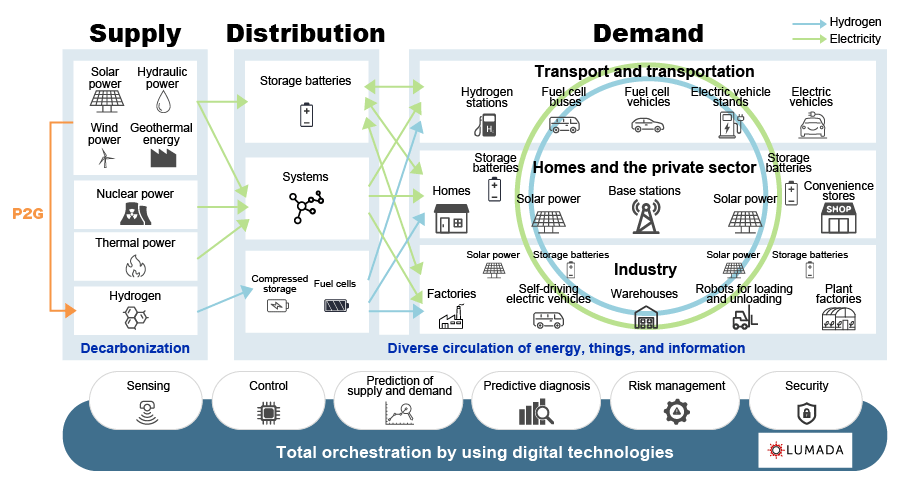 Figure: Conceptual overview of an energy system
Digital technologies manage stable energy systems to achieve decarbonization,
hydrogen fuel distribution, and entire supply chains that run on clean energy.

―Can you give us a conceptual overview of Hitachi's energy businesses?
Seiji: Generally speaking, there are three such businesses: The first is Hitachi Energy's power grid business, which I just mentioned. The second is our nuclear energy business, and the third is the domestic energy business. With regard to the last of these, we are focusing on renewable energy and have actually installed 835 wind turbines*, the most turbines installed by any group in Japan.
*

Total installed by Hitachi, Ltd., and Hitachi Power Solutions as of the end of March 2021

Kaji: Even looking at companies around the world, it's pretty rare to find a company that has both nuclear energy and renewable energy technologies, right?
Seiji: Yes, I'd say it's pretty hard to find another company like Hitachi.
Kaji: And this matches a policy put forth by the Japanese government to increase renewable energy while also stabilizing and optimizing nuclear energy to handle the baseload.
Seiji: Exactly. It's important to find the right combination of different types of energy. The more renewable energy you use, the less reliable the supply becomes, so adjustments need to be made. The development of Lumada has made it possible to make these adjustments with greater precision. Plus, in the past, the number of power plants was limited, but with the increase in renewable energy, we can now find power generation sites all over the place. However, as the number of such sites increases, at some point, it will no longer be possible for people to keep track of them all. That's why visualization through digital technologies will be necessary.
In the future, we will be able to make predictions. For example, if we know that it will be cloudy across a wide area, we can start up some power plants that were previously stopped. In such situations, it would be ideal to use power plants closest to the target region, but we also have to factor in various things like output capacity and power lines. With AI, we will be able to find the best method, accounting for all of those factors.
Kaji: As power generation sites become more spread out, how can we control them?
Seiji: Control will be consolidated to a degree and handled remotely. As such, it is likely that, in the future, control operations will also move to the cloud. But ultimately, we are performing operations on actual things, so the edge devices that actually operate those things will have to remain. Going forward, it will be more and more important for companies to provide evidence of their use of green energy. And speaking of the traceability of electric power, data will also be important here.