Co‑creation with Lumada! Visual representations of simulation results
Making the future visible by concrete images and animations, and evaluating proposals visually and quantitatively
Roads are the most familiar social infrastructure for people. Roads not only function to connect people and communities, but also shape the environment and landscape of the city, ensure smooth economic activities, and help provide safety in the event of a disaster.
Current society faces many different problems such as a declining birthrate with an aging population, depopulation in rural areas, and the increasing frequency of natural disasters. In this situation, road projects are essential to create cities where everyone can live comfortably. However, even if planners try to promote a road project, in many cases the project does not progress smoothly because the planners could not obtain the understanding and approval of the local residents.
It is difficult for residents to understand a project plan and get an image of the future state after the project finishes
In a large‑scale road project, obtaining the understanding and approval of local residents is essential for the project to proceed according to schedule, but local residents need to understand a wide range of information.
Residents need information about issues that will greatly impact their daily lives: for example, details of the road construction, its duration, and how much noise and vibration it will generate. In addition, in order to convince people that a project will provide long‑term benefits, despite some short‑term inconvenience, project planners must carefully explain the benefits such as alleviation of traffic congestion, improvements in pedestrian safety, and the provision of evacuation routes if a disaster occurs.
However, even if planners verbally explain that Traffic flow will be smoother and Pedestrians can walk safely, or if they use graphs to show the changes in traffic conditions before and after construction, local residents often have difficulty in visualizing what the road or neighborhood will look like in the future, and it is difficult for them to get a deep understanding of the future situation.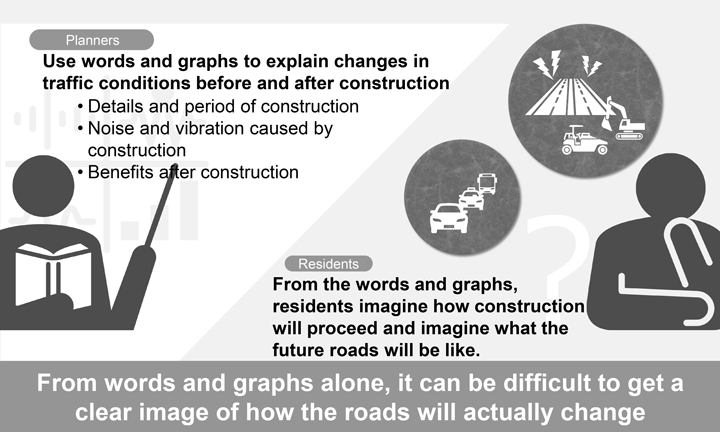 Using animations to visualize and explain the future state after a project is complete
If stakeholders can view how the movement of vehicles and people will change after a project is complete and can view the actual traffic movements, the stakeholders will intuitively understand the business benefits.
By utilizing Hitachi's simulation technology and using the generated images and animations to show the simulated future results, stakeholders can visually confirm the business benefits.
The simulations utilize digital twins, which exactly replicate real‑world road conditions in cyberspace. A project plan contains many details for which it is difficult to conduct experiments on actual roads, such as for multi‑layered intersections. Using digital twins, however, planners can repeat simulations over and over again while changing various conditions.
Using a digital twin to show the streets and neighborhood after the project is complete (which is impossible to do in the real world), planners can create animations that clearly show how people and cars will move in the future. By using animations in addition to quantitative information such as graphs when they explain a project to residents, planners can ensure that residents visually understand the project's benefits.
As their understanding of a project plan improves, local residents are likely to submit more specific questions and requests. Planners can incorporate such questions and requests into their scenarios and simulate the movement of people and vehicles by using digital twins, so the planners can formulate project plans based on the agreement of both businesses and residents.
As a result, the project can proceed with the participation of residents. This in turn reduces the number of complaints that arise after construction starts.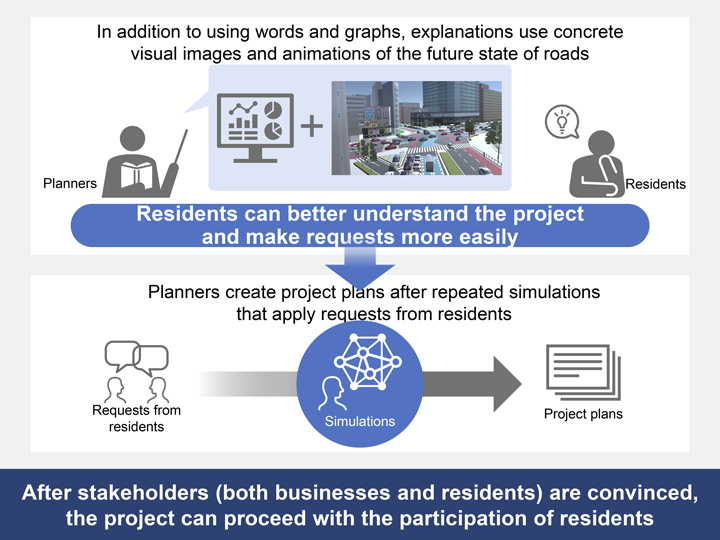 Column: The benefits of showing concrete images when conveying information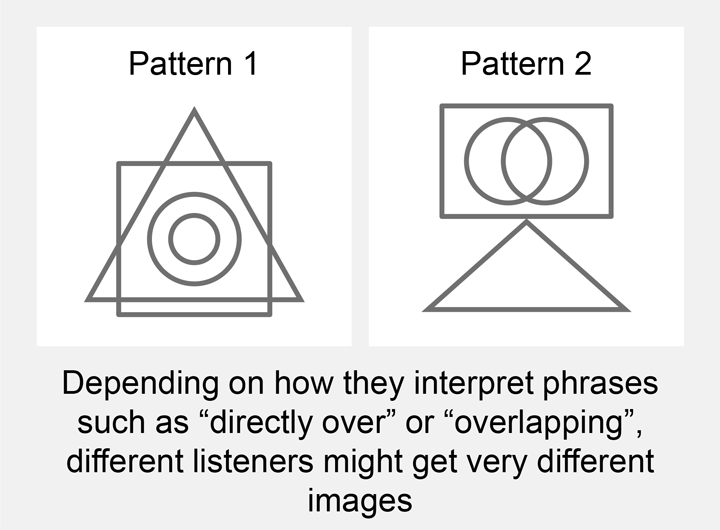 What kind of diagram comes to mind when you hear the following description?
"A rectangle is directly over a triangle, and the rectangle contains two overlapping circles."
Listeners who draw images based on what they heard can produce very different diagrams, as shown on the left. Even if you use the same words to describe the same situation, different listeners might form different mental images.
To accurately convey information and align perceptions, it is important to show specific, visually understandable images. By allowing the audience to visually confirm the images they have in their heads, you can prevent misunderstandings even if what you want to convey becomes complex.
When proceeding with road projects and urban development, explanations using diagrams, illustrations, animations, etc. help project planners convey information more accurately.