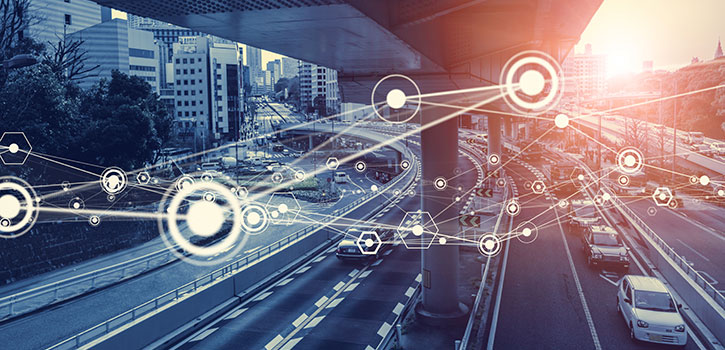 Even in the automotive world, connected technologies are evolving. As vehicles themselves become high-performance computers, efficiently updating in-vehicle software will lead to new value and safer autonomous driving technologies. This article introduces a customer case of Hitachi's solution for updating in-vehicle software efficiently and securely through wireless communication (OTA: Over the Air).
Key points of this article
Automatically updating in-vehicle software efficiently and securely
Reducing the burden on users and manufacturers by improving the convenience of vehicles
Responding to society's vehicle-related needs by using high-speed, reliable OTA technologies
Digest
The method for updating in-vehicle software is selected according to the state of the vehicle and the characteristics of the in-vehicle electronic control units (ECUs). In-vehicle software can be updated efficiently and securely by using differential updates and applying security technologies such as encryption, digital signatures, and mutual authentication.
Collaborative creation with Lumada: Improve the efficiency of updates and ensure the security of updates
Automatic update of in-vehicle software
With the development and introduction of advanced driver assistance systems such as automatic braking and autonomous driving technologies, vehicles are becoming highly digitalized. The in-vehicle software that controls vehicles is growing in both scale and complexity as its functions become more sophisticated.
Increased cost of updating software and ensuring security
When modifications of in-vehicle software are required to add or change functions, the software of vehicles that have already been shipped must be updated by car dealerships. To this end, users either need to bring their vehicles to a dealership or have a mechanic visit their home. As a result, media and labor costs are incurred, there is increased management burden, and users might face inconvenience, as they cannot use their vehicles while the software is being updated.
In addition, if there is a problem with the update, for example, due to the following reasons, a serious life-threatening accident might occur.
Users do not update the software, because it takes a lot of work.
The software is hacked, causing the vehicle to behave abnormally.
To mitigate such risks, software quality and security are becoming increasingly important, and it is necessary to efficiently and securely update in-vehicle software to the latest version.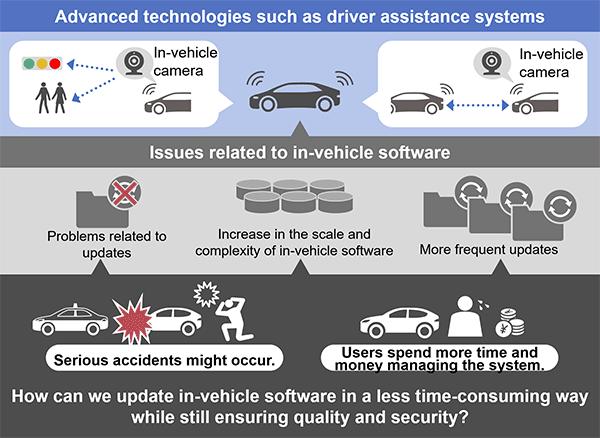 Efficient and secure updates by using OTA
To reduce the cost and time required for updates, it is effective to switch from the conventional update method to a method that uses OTA.
In the case of software updates that use OTA, when a new function is added or a problem is corrected, the manufacturer uploads the in-vehicle software to an OTA center. When certain conditions are met (for example, the vehicle is safely parked and secure communication with the vehicle can be established), the software update is sent from the OTA center to the vehicle over the air and the software is automatically updated. This makes vehicles more convenient and reduces not only the management burden on users but also the burden on manufacturers.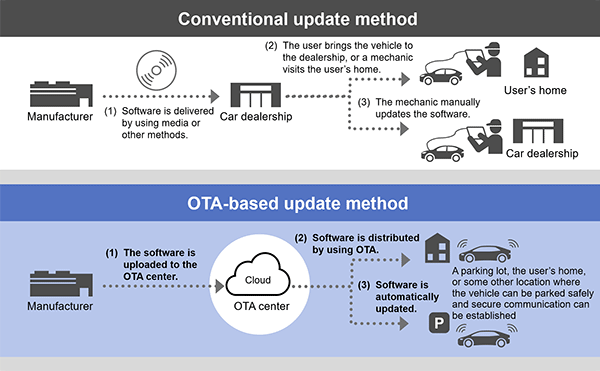 Glossary column: What is OTA?
OTA (Over the Air) is technology that sends and receives data wirelessly. It is used to download content and other data, and to update software.
In the past, to update software on a device, one needed to connect the device to media such as a CD-ROM or memory card, or by using a communication cable. In contrast, by implementing OTA, software can be updated remotely by using a wireless LAN or mobile phone network, eliminating the need to prepare media or connect a cable to the device.
Software updates through OTA have already been used to update mobile devices and smart home electronics, and the scope of application is now expanding to vehicles and other areas. With the increase in automobiles equipped with autonomous driving and other advanced functions, OTA, which can quickly implement software updates and apply security patches, is expected to be a technology that improves the safety and convenience of automobiles.
Aiming to achieve autonomous driving that is safe, secure, environmentally friendly, and comfortable
Solution for wirelessly updating in-vehicle software
By using Lumada's solution for wirelessly updating in-vehicle software to automatically update in-vehicle software, the optimal update method can be selected according to the state of each vehicle and the characteristics of its ECUs.
Provision of high-speed, reliable OTA technologies
The solution for wirelessly updating in-vehicle software applies security technologies that are standard for IT systems (such as encryption, digital signatures, and mutual authentication) to software distribution. This enables secure updates that protect in-vehicle software from hacking and other attacks.
In addition, this solution uses differential updates. This means that, instead of sending and updating in-vehicle software in its entirety, the solution sends and updates only parts of the software that have changed. This reduces the amount of data to be sent and reduces the time needed to update the software. This improves availability and reduces the load on the vehicle battery. Depending on the state of the vehicle and the characteristics of its ECUs, the solution can also recover the software when an error occurs, such as an update failure or a dead battery.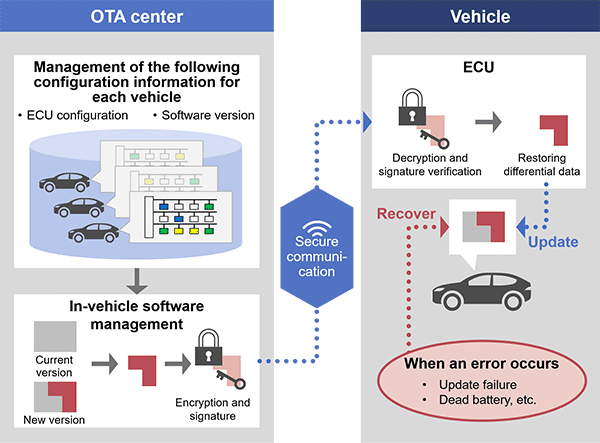 Glossary column: What are ECUs?
ECUs (electronic control units) are devices that electronically control systems and are primarily installed in vehicles. An ECU comprises a computer, its peripheral equipment, and a communication module.
A single vehicle can have multiple ECUs for different purposes, such as engine control and transmission control. These functions are achieved by the software embedded in the ECUs. In some cases, there can be more than 100 ECUs installed in a single vehicle. The ECUs are mutually connected via an in-vehicle network to coordinate their functions.
Based on various information obtained from in-vehicle sensors, ECUs control a vehicle by using pre-installed control software. For example, to create environmentally friendly, safe, and comfortable vehicles, one ECU prevents accidents by using information from cameras that recognize people, traffic signs, and signals, as well as information from radars that measure the distance between vehicles. Another ECU controls the vehicle to reduce vehicular exhaust based on information from engine sensors.
Achieving performance and scalability goals and enabling the reduction of operational load and the rapid development of new functions
Hitachi's approach: Using cloud infrastructure
An OTA center, which distributes software updates, is constructed on public cloud infrastructure. With this serverless architecture, we can expect performance and scalability that can one day handle access from more than 10 million vehicles. In addition to reducing server operating costs and operational load, the framework enables rapid prototype development and the delivery of new functions to the market in a timely manner.
For details on the case study, see the following:
Solutions that integrate with Amazon Web Services (AWS)
Expectations for solutions that incorporate OTA technology
These days, society demands more of vehicles. For example, vehicles should be environmentally friendly, help prevent accidents, and provide improved comfort. Until recently, the scope of the vehicle business ended with the sale of each vehicle. However, going forward, it will be important to manage vehicles even after they are sold and shipped to users. For example, management is needed when a user purchases a vehicle and then a new function is added in conjunction with the functional expansion of social infrastructure or when the vehicle is resold to another user.
With the solution for wirelessly updating in-vehicle software, we are developing technology to safely manage in-vehicle software throughout each vehicle's long lifecycle, which generally spans more than 10 years. We will continue to provide solutions with the aim of creating a society where users can drive with peace of mind and creating new value in response to the future business models of vehicles.
Technical column: Using OTA technology to facilitate level-3 autonomous driving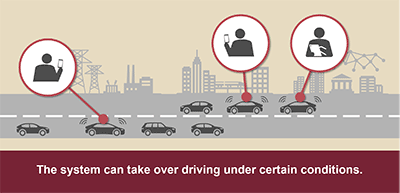 In March 2021, Honda Motor Co., Ltd. released a new Legend car model. Noteworthy is the fact that the car is the world's first production car that offers level-3 autonomous driving. This allows the system to take over driving under certain conditions when the user runs into a traffic jam on the highway.
This new model uses an autonomous driving ECU and an OTA unit for receiving and managing updates. Both of these units were developed by Hitachi Astemo, Ltd. as over-the-air (OTA) software update solutions.
This solution makes it possible to update software for autonomous driving ECUs by using OTA distribution through an OTA center provided by the Hitachi Group. Everything needed is provided as part of a one-stop solution, from a data center that sends software updates, to the in-vehicle device system.
For details on the solution, see the following:
Over-the-Air (OTA) Technology to Update Control Software

High-speed, reliable OTA makes it possible to automatically update in-vehicle software in an efficient and secure manner.
To read a special behind-the-scenes feature on research and development, see the following:
OTA Software Update Technology for Vehicles - Highly Reliable and Quick Updates