Date
February 8, 2019
Title
Fundamental technology to support the early diagnosis of neurodevelopmental disorders from brain response at the time of medication
Release Digest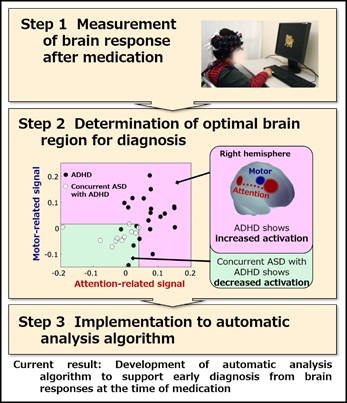 Process in developing the automatic analysis algorithm
Hitachi, Jichi Medical University (JMU), International University of Health and Welfare (IUHW) and Chuo University (Chuo-U) have developed fundamental technology to support the early differential diagnosis of concurrent autism spectrum disorder(1) (ASD) in patients with attention-deficit hyperactivity disorder(2) (ADHD). The technology automatically analyzes the presence or absence of concurrent ASD when an ADHD patient takes their medication for the first time, by using optical topography(3) to measure brain response. The condition can be predicted with a confirmed accuracy of about 82%. Conventionally, differential diagnosis requires follow-up observations spanning several months. This technique demonstrates the possibility of achieving a diagnosis in about 2 hours.
Hitachi, JMU, IUHW and Chuo-U will continue to develop this technology through clinical research, with the aim of realizing a society that supports the healthy development of patients with neurodevelopmental disorders.
A part of these results will be published on the Frontier in Human Neuroscience(4) on 8 February 2019.
(1)

Autism Spectrum Disorder https://www.psychiatry.org/patients-families/autism/what-is-autism-spectrum-disorder. A generic term for a developmental disorder exhibiting various degrees of characteristics associated with autism.

(2)

Attention-deficit hyperactivity disorder https://www.psychiatry.org/patients-families/adhd/what-is-adhd. A common mental disorder affecting children, although it is also found in adults. Characteristics include inattention, hyperactivity and acting impulsively.

(3)

Optical Topography: A non-invasive medical and scientific instrument that examines brain activity using near infrared light to measure and visualize the pattern of hemodynamic changes in the cerebral cortex at the brain surface. Medical examination using Optical Topography was approved by the Japanese National Health Insurance for the psychiatric field to support the differential diagnosis of depression as well as for use in the neurosurgical field.

(4)

Frontier in Human Neuroscience: https://www.frontiersin.org/articles/10.3389/fnhum.2019.00007