Catch Kizashi (Future signs)
Hitachi has been researching Kizashi, future signs of change in people's values since 2010.
The results of that research are collated in A Collection of Future Perspectives that Provide Signs of Change in People's Thinking and Behavior, and Social Trends. Let me share my observations on one of those signs that was noted in 2010 regarding future environmental issues.
In and around 2010, people were starting to become more aware of environmental issues with the enforcement of Japan's Home Appliances Recycling Act, but problems related to plastic waste, which has become such a big issue today, had not yet surfaced and people were pretty much focused on convenience and efficiency. Having said that, we were already seeing some shoots of pending change in terms of environmental awareness.
This is an introductory video by an environmental education consultant who gives lectures to young people.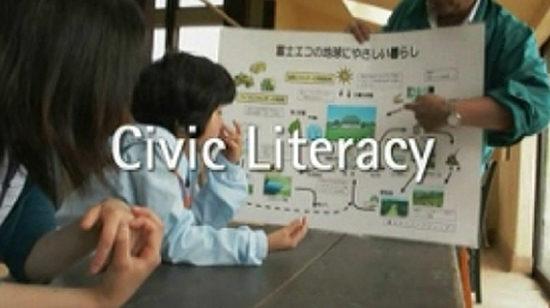 This video shows that young people were already starting to receive environmental education in 2010. We viewed these developments as the budding seeds of change for the future.
An analysis of these sprouting seeds suggested to us that the number of young people who had received environmental education would increase going forward and, as a result, social values towards the environment would likely change, so we have introduced this as a sign from 2010.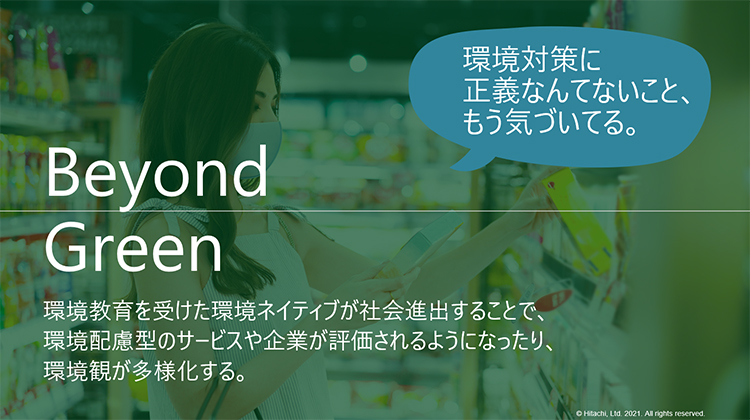 So, what is the actual situation right now? Today, considering the environment is a natural and obvious thing to do. In 2010, it was a sprouting seed of change. In 2021, it is a constraint on the way we think about everything.
People's values will continue to change in this way. In other words, when we think about the limitations relating to social issues, any elements of those constraints that have to do with values may also change going forward.
Social problems are complex and very difficult to solve. We often hear that we need a new breakthrough to make progress. How are people's values likely to change within that mix? What kind of exciting future do we want to create? We would really like to consider these issues with you. To solve social issues with the aim of creating an exciting future. I very much hope we can do that together.
The theme of this webinar is: Our Purpose and Social Innovation Business. Right now there is an extremely important focus on purpose, or raison d'etre. How are we to best link purpose and social innovation? I would like us to consider this overarching question together in the next two sessions.