Carving a Future from Today's Multiple "Nows"
One finding was a greater awareness of plural futures.
One of the diagrams we use when researching future insights is the Futures Cone.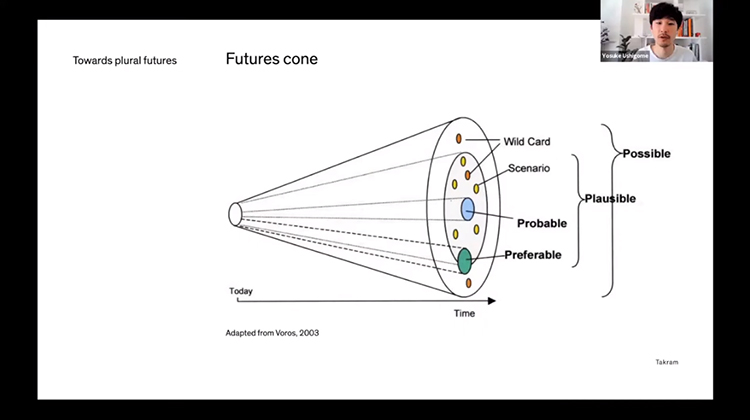 This shows time on the horizontal axis, today on the left and the future on the right and draws three future images extending out from the center of the cone, starting with the Probable future at the core and extending out to Plausible and Possible futures in the wider cones. This serves as a framework that enable us to throw out various scenarios for repeated discussion that helps locate the actual Preferable future. This framework has been used extensively in the past, but many creators are now starting to think that it might actually limit future scenarios.
This could be because people have seen for themselves just how different the experiences of different people have been during the 2020 COVID-19 pandemic depending on their individual circumstances.
For example, some people got to enjoy more leisure time due to the declaration of states of emergency in Japan, while others working on the frontlines didn't even have a moment to mourn the death of infected people. It has made people more clearly aware that one person's dreams and ideals can be another person's nightmare.
The left edge of the Futures Cone shows the point that indicates the current situation. However, people are starting to ask whether it is actually possible to cast the future based on an assumption that everyone is standing within such a narrow area right now.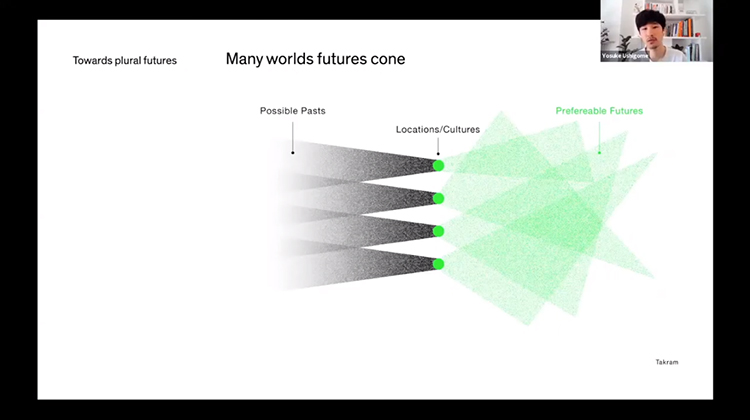 So we created a new framework that depicts the Many Worlds Future Cone.
What we used to depict with a single narrow point as now or today, is drawn in the middle of the diagram as many different "nows" with different regional and cultural influences. The futures that extend from these different current situations coexist and overlap in places. The same can be said of the past. This diagram enables us to see new possibilities based on the understanding that different pasts carved from different cultures and locations will determine the potential futures that can be created within that culture.
We have described this newly observed approach in New Ecologies Research and asked questions to determine how this approach could be usefully applied to our Hitachi and other innovation projects.
What if you were to draw a completely different picture of the world in relation to the project you are currently working on?
Which world image would reveal the more preferable future?
How are you helping broaden or narrow the future options for your stakeholders?
How do you think the project you are currently working on looks to people from other regional communities?
We believe it is important to raise these questions going forward.