Achieving innovation through co-creation with customers
Were you able to readily integrate mathematical optimization and machine learning in a satisfactory manner?
ZHENGFor a while after applying this technology, we were not able to produce results that were satisfactory for the customer. So we received feedback from the customer by communicating with them, and worked to enhance accuracy by improving incorrect sections. We repeated this process over and over.
KOBAYASHIEssentially, machine learning is suitable for photo identification and language translation. So there have been few cases in which machine learning was applied in creating something. On the other hand, mathematical optimization is used for preparing plans (solutions). Thus, combining them was extremely difficult. It is even difficult to explain how difficult it was.
For example, suppose you have a plan that conforms to the constraint conditions and another that slightly disobeys them. Unless you establish a good balance as to which one is prioritized, you cannot make a good plan that would be envisioned by experts. When extracting the features through machine learning, it is important and difficult to determine how well the plan's features on the experts' minds can be extracted.
What perspectives are needed to extract the features to gradually learn the vital points?
ZHENGFirst, you need to obtain knowledge of operations in each area, be it railways or iron and steel. Still, from our own perspectives, we cannot tell whether the extracted results are correct or not. As we communicated with the customers, we gradually came to understand what they mind or care about.
Were there any important points you followed in communicating with the customers?
ZHENGWhen results of our prototypes are obtained, I make it a practice to honestly tell the customers what I believe should be improved or solved. By doing so, I could share my views and awareness with the customers. Then, I proceeded with my assignments while receiving feedback from them. When I worked on their feedback, I tried to produce results as quickly as possible.
KOBAYASHII keep in mind to speak from the customers' perspective as much as possible. Earlier, when I had few opportunities to meet the customers and was not accustomed to doing so, I talked only about technologies. But the customers did not understand what I was talking about at all, and we often could not communicate well with each other. I reflect on this, and remind myself to be careful.
In addition, each industry has special terms or jargon that the customers take for granted. I try to remember them correctly and talk with the customers using their words.
What reactions have you received from the customers on the new technology?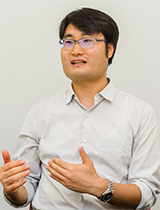 ZHENGThe customer made a presentation on the new technology at a seminar, and we attended. On this occasion, the customer said that it was an "off-the-wall solution," which made an impression on us. As far as I understand, it may mean achieving what could not be achieved before. I think the customer felt that our technology would be helpful in addressing the issues they had not been able to solve. Honestly, I was very pleased as the customer used such an expression in front of many people, and I believe the first step in our task is to satisfy the customer.