Fighting "moving tumors" with proton beams
What exactly is cancer treatment that uses proton beams?
FUJIMOTOCancer treatment can be broadly divided into three types: surgical treatment in which the tumor is physically removed; chemotherapy where tumor growth is inhibited using carcinostatic agents, and radiotherapy, where the malignant tissue is irradiated with high-energy radiation to control the tumor and kill the diseased cells. Proton beam therapy falls under the category of radiotherapy, and imposes the least amount of stress on the patient.
Proton beams have superb characteristics. The energy released when passing through a person's body is small, and the most amount of energy is released when they stop. Radiotherapy inevitably damages properly functioning organs to some extent, but with proton beams, if we can make them stop precisely where the cancer is located, we are able to damage only the cancerous cells without largely affecting normal cells.
In the past, the area of irradiation was adjusted using a board that was carved in the shape of the patient's cancer. However, preparing a custom board each time is time consuming, and proton beams would affect the region around the cancerous area no matter what. This is why Hitachi invented spot-scanning irradiation technology. This method allows the manipulation of fine proton beams with electromagnets, and is a method which irradiates as though coloring in the tumor. As this method targets only the cancer, it is less likely to harm properly functioning organs. You might even say that it is the ultimate cancer treatment method.
Does this mean that spot-scanning irradiation technology causes significantly less stress on patients?
FUJIMOTOThat's correct. However, even spot-scanning irradiation technology had two weaknesses. The first was that as the equipment which generates the proton beam is very large, the system could only be installed in large medical facilities. The other was that it was difficult to treat "moving tumors." Through this joint research with Hokkaido University, we invented a new proton therapy apparatus which addressed these weaknesses.
What do you mean by "moving tumors?"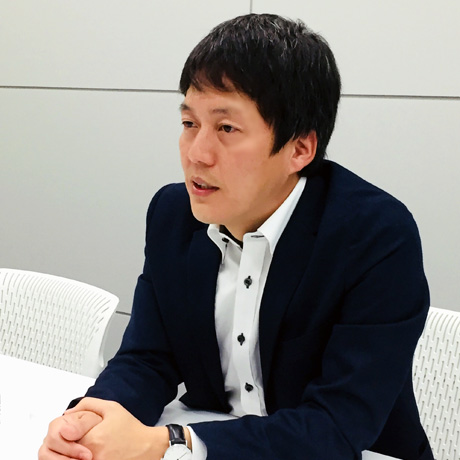 FUJIMOTOTake lung cancer for example. As the position of the lungs move with respiration, the cancerous region constantly varies. There are other organs that move along with respiration as well. It is difficult to target these types of moving tumors with the beams, and there are often cancer cells that remain.
In conducting x-ray therapy, Hokkaido University had already developed Real-Time image Gated Proton Beam Therapy ("RGPT") technology. We thought that if we could combine this technology with Hitachi's spot-scanning irradiation technology, we would be able to treat moving tumors with proton beams. In light of this thought, we proposed a joint research project to be led by Hokkaido University and applied to the Funding Program for World-Leading Innovative R&D on Science and Technology (the "FIRST Program").
The FIRST program was a 5 year program run by the Council for Science and Technology Policy, to support cutting-edge research in Japan to become world-leading technology. The solicitation for research themes and institutions was in 2009, and Hitachi and Hokkaido University's joint proposal was selected for funding with the hopes for developments in radiotherapy.
Ever since joining this company, I have always been involved in the development of radiotherapy systems. In this project, I was in charge of developing therapy planning software that would control the irradiation of proton beams and irradiation simulations, among other things.