HIACS series is a comprehensive monitoring and control system for thermal power, hydropower, and nuclear power plants that brings together Hitachi's rich experience and control technology. In the history of more than 40 years, we have accumulated a lot of application results.
We provide optimal solutions required for plant operations and advanced solutions using ICT.
DCS:Distributed Control System
HIACS series features
HIACS series has evolved with the introduction of advanced technologies of each era while inheriting the assets of the past.
Highly reliable system with redundant equipment and network multiplexing.
Function distribution system integrated by control network.
Flexible system configuration according to required reliability and installation environment.
Support for mixed configuration of old and new products.
As a result, you can achieve that rationalization of the system according to the scale of equipment, compactification by applying remote I/O (reduction of the amount of cable between the field and the electrical room and reduction of the electrical room area), and realization of the latest state at low cost by a partial update according to the status of the control device.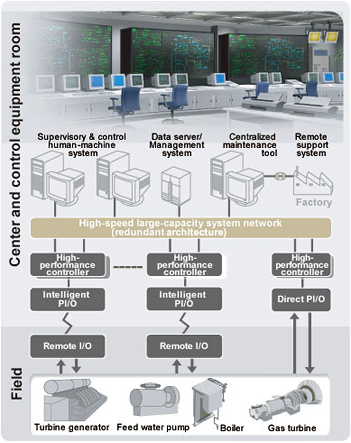 Example of system network
In addition, the latest HIACS series supports HMI using web technology and HMI using mobile terminals, collects and analyzes information from the control device, improves facility availability through early detection of equipment abnormalities. We provide ICT solutions that aim to improve operational efficiency by optimizing inputs.
HMI:Human Machine Interface


Transition of power generation