Steam power generation control system
At power stations used as a base power source, we are working globally on control systems with important functions such as APC that controls the amount of fuel, water, and air supplied to the boiler, and SQC that controls the start and stop of the plant. We have a lot of delivery results.
When upgrading from the old system, we are promoting the latest system while adding the method of shifting the equipment update time in the system in order to meet the needs such as the periodic inspection days of the plant.
APC : Automatic Plant Control system
SQC : SeQuence Control system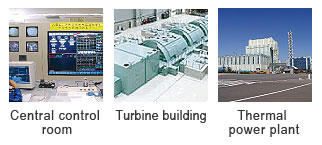 AVR
Hitachi has provided a variety of generator excitation systems for thermal, hydro-electric and nuclear power plants for decades.
Hitachi provides optimal systems according to customer specification from small to large capacity generator.
Selection of system configuration (simplex or redundant) for operational reliability of plant.
Optimal functions in various controls.
Monitoring alarms and plant operation condition, and changing control mode by HMI.
AVR : Automatic Voltage Regulator
HMI : Human Machine Interface