Date
October 9, 2018
Title
Development of System to Accelerate the Creation of Innovative Ideas through Co-Creation Workshops with Customers
Release Digest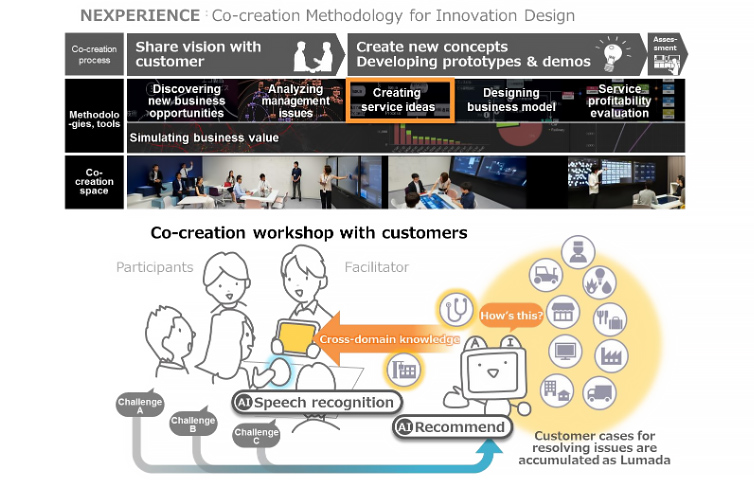 Hitachi today announced that it has developed a system to accelerate the creation of innovative ideas connecting cross-industry knowledge, such as that from energy, manufacturing, and finance, using artificial intelligence (AI) to perform speech recognition and recommend customer cases. This system uses knowledge accumulated in Lumada, which has been condensed from Hitachi's achievements in operational technology (OT) and information technology (IT). The technology has been developed for ideation workshops with NEXPERIENCE, Hitachi's unique customer co-creation methodology. This newly developed system will contribute to the creation of new businesses by accelerating ideation among participants in workshops to innovate and connect cross-industry knowledge.
By utilizing this system in workshops, it was confirmed that innovative ideas connecting cross-industry knowledge were created twice as frequently in comparison to when the system was not used.
Hitachi will introduce this system for customer co-creation workshops in November, 2018. Moreover, the company will continue to advance NEXPERIENCE and use digital technology to accelerate its social innovation business and contribute to resolving challenges faced by its customers and society.