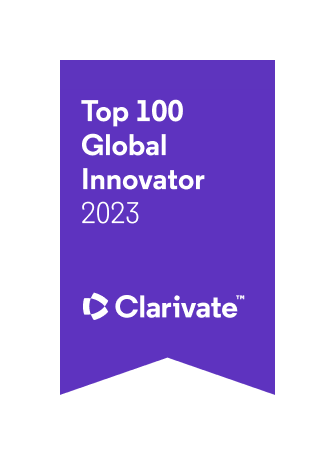 Tokyo, February 17, 2023 – Hitachi, Ltd. ("Hitachi") today announced that Hitachi has been recognized as one of the world's top 100 innovative companies in "Clarivate Top 100 Global Innovators 2023." This award is hosted by Clarivate Plc ("Clarivate"), which owns one of the largest patent databases in the world. Hitachi is honored to be recognized for its achievements in the intellectual property (IP) field and to win this award for 12 consecutive years, ever since the awards began in 2012.
Clarivate has selected the 100 global companies as "Clarivate Top 100 Global Innovators" annually based on Clarivate's patent database, its patent research and analysis platform, as well as its own evaluation criteria. Companies listed in the "Clarivate Top 100 Global Innovators" are recognized for their innovativeness, efforts to protect IP, and creation of inventions that have had an great impact on a global scale.
Hitachi has formulated and implemented IP strategy that consists of three pillars; Competition, Collaboration, and IP for society. The IP strategy for Competition is created on acquiring and utilizing patents and other IP rights, while the IP strategy for Collaboration aims to utilize IP to promote partnerships and build ecosystems. IP for society represents Hitachi's strategic engagement in IP activities that contribute to solving social issues. In recent years, Hitachi has also been focusing on IP activities contributing to the environment. For example, Hitachi has been participating in "WIPO GREEN" as a partner. WIPO GREEN is a marketplace operated by the World Intellectual Property Organization to bring together key players to catalyze green technology innovation and diffusion, and Hitachi has registered our wind-generation technology that contributes to solving issues of climate change. Furthermore, Hitachi changed the name of the Intellectual Property Division to the "Global Intellectual Property Group," and created the new role of Chief Intellectual Property Officer (CIPO) to serve as the Hitachi Group's governance leader with regards to IP. Hitachi will promote further global deployment of our IP activities by strengthening collaboration with subsidiaries inside and outside of Japan and enhancing Hitachi's system for global IP management.
In the Mid-term Management Plan 2024, Hitachi established a new vision to become a global leader that resolves societal issues and grows our DX*1 and GX*2 businesses using intellectual property. Hitachi will achieve further advances and growth in the Social Innovation Business through the protection and use of intellectual property centered on "Green," "Digital" and "Innovative" initiatives.
*1

Digital Transformation

*2

Green Transformation
Related Link
Hitachi's Initiatives for Intellectual Property