Since it is difficult to store the large amounts of electrical energy, the power generation and consumption must be balanced always in order to keep high-quality power supply.
The Energy Management System (EMS) is necessary to establish the operation schedule and remote control with the capability of controlling the voltage and power flow properly for ever-changing power consumption, scheduling the planned outage of power system equipment such as power transmission lines and transformers for the inspection and repair, and taking measures in case of contingency.
Hitachi supports these EMSs in all levels from entire area system level such as central load dispatching center to regional level and distribution level also in all service range from supply and demand operation and power dispatching operation to distribution operation.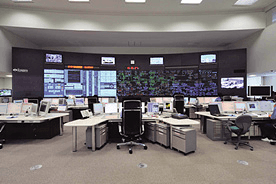 Central load dispatching center
Wide-Area Distributed Autonomous Supervisory Control Technology for Power Grids
Contributes to the operation of electric power grids in low carbon society in the 21st century.
A huge electric power grid is structured in hierarchy and distributed in a wide area to maintain high reliability. This technology provides optimum and autonomous supervisory control of the system by dividing it into three parts: hierarchy, region and function.
Wide-Area Distributed Autonomous Supervisory Control
At the total system level, supervisory control is exercised to achieve overall optimization.
At each regional level, supervisory control is exercised to achieve regional optimization and functional coordination.
At each station level, supervisory control is autonomously and automatically exercised at a high speed and high frequency.