What if the way of connecting services by changing the price is adopted for public infrastructure such as roads?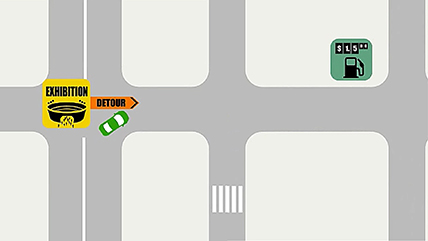 For example, when a business operator is planning an event and requests to keep a road open from traffic congestion, a driver responds to the request by making a detour and getting cheaper gasoline. In this way, the request, behavior and price are linked.
When one business operator wants to block off a road for event or other reasons, and another business operator wants to increase the number of users by offering such incentives as cheaper gasoline, the driver is thus presented with an option to choose between each business operator's request.
As shown in this example, traffic congestion can be mitigated in a natural way while making people feel comfortable about their choices. Such a strategy could also make the community more comfortable to live in.