Technology Details
(1) Technology using physiological data to predict in real time the risk of crashes caused by fatigue
This technology functions to calculate the risk of a crash in real time by determining the autonomic nervous system *3 feature value based on analysis of heart beats data for 1,200 driver-days on the job, and notify drivers and managers when the calculated risk exceeds a threshold (Fig. 3).
First, through joint research between Hitachi and experts in the field of fatigue science, we designed a feature value set (approximately 50 types) of autonomic nervous system related to driver fatigue and stress. Next, using the near-miss*4 classification technique described in the next section, we calculated the probability distribution of the risk level, which indicates the possibility of a near-miss situation occurring for a feature value. The results show that the distribution of near-miss risk expands in the direction of higher near-miss probability depending on the value of the feature (fatigue and stress). Therefore, using approximately 50 types of feature values, we performed a regression analysis to estimate the probability of high-risk situations by feature value, and succeeded in extracting features that narrow the range of risk by up to about 50% toward the low end (Fig. 4). With this novel method of analysis, we have generated an algorithm that can calculate specific autonomic nervous system features from heart beats data alone and then calculate crash risk.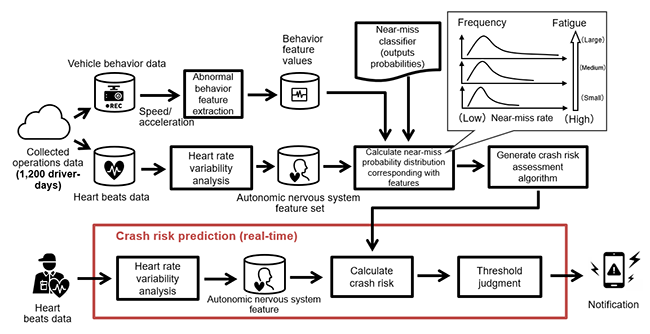 Fig. 3. Algorithm for predicting crash risk using autonomic nervous system feature values
that are highly correlated with the occurrence of near-misses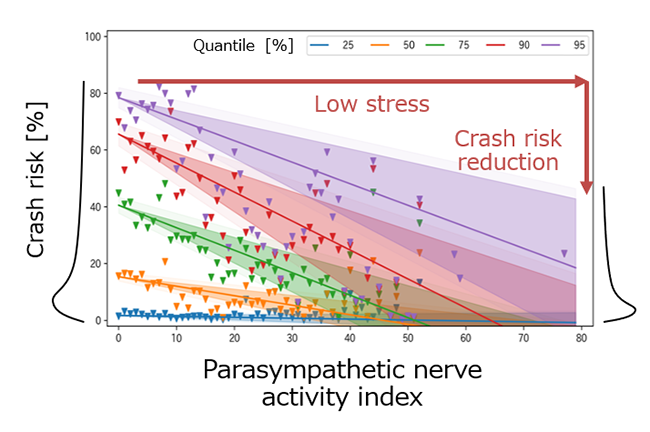 Fig. 4. The relationship between the feature values of the autonomic nervous system (parasympathetic nerve activity index) extracted in this study and the probability of occurrence of driving operations (near-miss situations) and level of risk
(The range of risk narrows by about 50% toward the low end as the feature values increase [relaxing].)
(2) Near-miss classification technique through machine learning
We have developed a near-miss classification technique that extracts features of high-risk behavior from vehicle behavior data and outputs the level of risk that is likely to cause the above-mentioned near-miss situations.
In logistics operations, a large amount of data is required to statistically reveal the relationship between physiological data during driving and crash risk. However, the annual number of crashes involving trucks is small (about 1% of the total number of trucks owned), and since cases of crashes involving a particular vehicle or driver are rare, collecting statistically useful data has been difficult. Therefore, we focused on near-miss situations that could lead to crashes.
Although a person can visually identify near-miss situations from in-vehicle camera video, it would take an inordinate amount of time to do so, thus we have developed a technique to automatically classify near-miss situations based on vehicle speed and acceleration data using machine learning (Fig. 5). In this process, experts selected near-miss situations using a portion of data and used them as training data. In order to improve the accuracy of classification, we defined several driving scenes where crashes are likely to occur, such as driving on highways and before and after stopping vehicles, based on actual near-miss cases, and conducted machine learning for each driving scenario. As a result of these learning efforts, it is now possible to automatically classify near-miss situations from vehicle behavior data with an accuracy of 84%. Using this classification technique, we determined the degree of risk, which indicates the probability of occurrence of a near-miss situation, from the speed and acceleration data.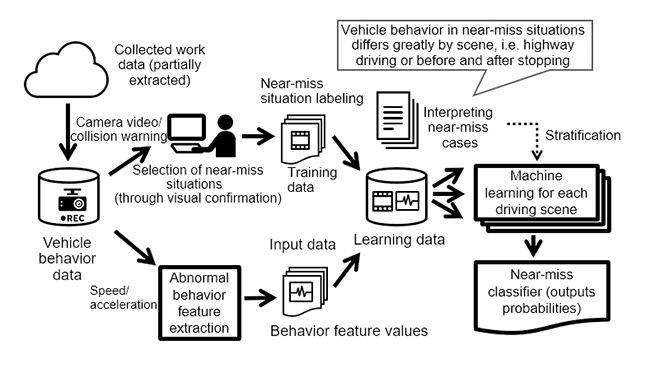 Fig. 5. Technique that uses machine learning to classify near-miss situations
from vehicle behavior data and determine the probability of occurrence and degree of risk