Control all of the driving vehicles in the whole city.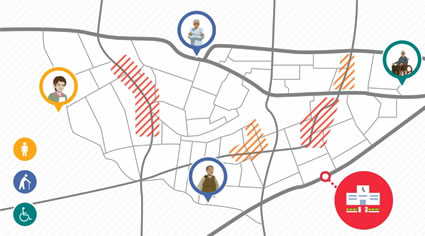 Traffic congestion in times of disaster
In the aftermath of such disasters as a powerful earthquake and tsunami, a huge number of people must be evacuated, resulting in unavoidable congestion.
Following the Great East Japan Earthquake, widespread congestion inhibited a smooth flow of traffic for emergency vehicles and evacuees heading to shelters.
There are growing numbers of and handicapped persons who are difficult to cities and more susceptible to traffic accidents. Ensuring safe evacuation is an urgent issue. How can we ensure a steady environment for those needing evacuation assistance in times of disaster a disaster without causing traffic congestion?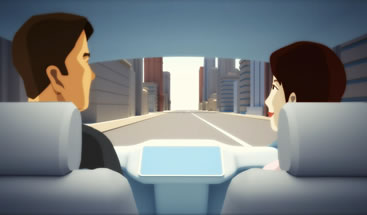 Comprehensive control of autonomous mobility
What if we can control cars driven in the city under advanced transportation control? In case of a disaster, people act differently than usual, and the that functions well during peacetime loses its balance and ceases to function. It is thus important to keep transportation under control so as to prevent confusion by grasping the movement of cars and people in the entire city. By controlling all the traffic of autonomous mobility while simultaneously issuing evacuation and waiting instructions, people can act calmly with a comprehensive perspective even in times of disaster.

Control during peacetime and disaster
In a society where autonomous mobility is the mainstream, comprehensive control over speed during peacetime will solve traffic congestion, and automobiles will become a more precise mode of transportation.
By utilizing this comprehensive control system in times of a disaster, exclusive lanes will be secured for emergency vehicles, support vehicles, and evacuating vehicles. Traffic congestion will be prevented by controlling the directions and quantity of vehicles.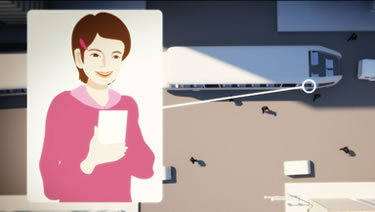 Evacuation of people who need assistance for transportation
Public transportation such as buses will be programmed to pick up people who need assistance for transportation.
For families with children staying alone at home during the daytime, their cars will be programmed to evacuate the children. Parents will constantly instruct the children to "use the car to run away when we are not with you."
People use roads and cars at their own discretion. When comprehensively controlled to a level higher than that of trains, roads and cars will serve as a stress-free and reassuring means of public transportation during peacetime and in times of a disaster.