Supplying domestic water to homes at a high frequency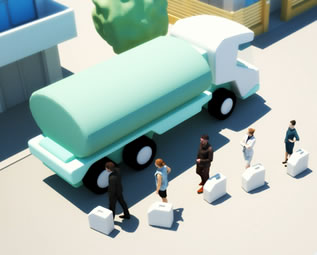 Domestic water shortage during evacuation
It is not easy to secure enough water in times of a disaster. People staying home instead of shelters must undertake extensive efforts to prepare water tanks by themselves, and carry water from a water supply center to their home. Water supply vehicles may not supply enough domestic water, causing concerns over the rising risk of health damage. How can we deliver enough water for people in times of a disaster?

Supplying domestic water to homes at a high frequency by autonomous mobility
Autonomous mobility can respond to complicated driving plans without human drivers, and deliver water very frequently. What about applying it to water supply carts for evacuees?
The carts will supply water for evacuees as a substitute for waterworks, and reduce the physical and mental burden of evacuees until the lifeline is restored.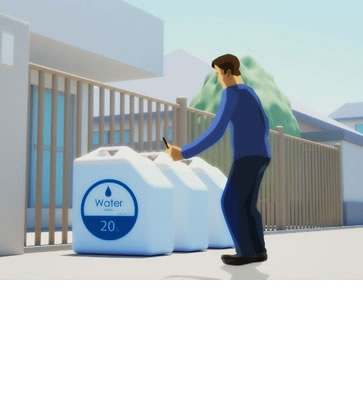 Providing the minimum amount of daily water required
For a family that needs a water supply, a package of 20 liters of water per person will be delivered every day. This is the minimum amount of water necessary for life, as well as for washing one's hands, face, and body for hygiene, and washing the dishes.
The distribution areas and the amount of water delivered in the community will be recorded. The water supply plan will be updated based on the record, and water supply vehicles will be dispatched accordingly. This will enable a steady and equal supply of water without using much human labor for distribution.